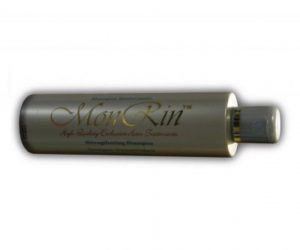 Hair doesn't have an easy life. It's exposed to the effects of unfavourable weaher conditions (wind, frost, blistering heat) all the time. We damage its condition as well. Blow-drying with hot airflow, tight buns, pulling with a hair tie or towel, straightening… it all makes hair sick and tired after some time. Dry, poorly nourished, shine-less and frizzy strands? We all know it, don't we? Some women suffer incessantly, struggling with brittle hair and bad condition of strands. Others just need to regenerate it after summer. In both cases a MonRin shampoo containing castor oil will surely help.
The cosmetic is designed for the intensive regeneration of weak hair which has lost its condition, bounce and shine. It contains the diversity of natural ingredients which together provide a huge restoring power.
One of the shampoo's ingredients is castor oil – well-known, tried and tested natural oil which is irreplaceable in hair and scalp care. Castor oil strongly regenerates, acts as an antioxidant and offers antiseptical and antimycotic properties. What's even more important, castor oil prevents hair loss as well as takes care of hair ends which stop to split. The strands become soft, elastic and bouncy and are easier to style. What is more, castor oil fights with the brittleness of hair.
Castor oil in MoRin product is hydrogenated which means that the oil gets more lightness and doesn't weigh hair down. It works like an emollient, nourishes and smooths strands and creates an occlusive layer on hair which is a protective layer preventing excessive water loss from hair. The hydrogenated castor oil works like an emulsifier – helps to create the emulsion.
MonRin Shampoo contains some other ingredients which enhance hair condition:
aloe vera extract which alleviates irritations
ginkgo extract which improves blood supply in the scalp and nourishes hair bulbs
extract of dried fruits of bird pepper – it cleanses the scalp
nettle extract – prevents oily hair, regulates functioning of sebaceous glands
white lotus extract – nourishes hair and makes it silky smooth
broomcorn millet extract – smooths the surface of hair, which gives hair nice shine
eucalyptus oil – has anti – inflammatory properties
grape extract, grapefruit extract – prevents oily hair
hop extract – similarly to castor oil, it stimulates hair growth
vitamin E – called "vitamin of youth" – slows down the effects of hair aging, fights free radicals
The shampoo is getting lots of positive reviews on the Inernet. It is recommended by many women. The product is available in numerous drug stores and online shops.